BEAUTIFUL CELLULOID PATTERN HANDLED STRAIGHT RAZORS
German makers used fancy pattern handles to compete with the British makers for the straight razor market.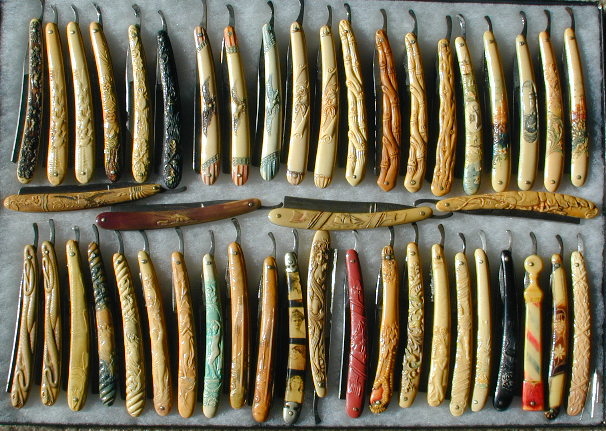 ---


This is NOT the Portrait pattern handles that you see most often. This one has the Lady's head in the center. Price = $150 + shipping/insurance
---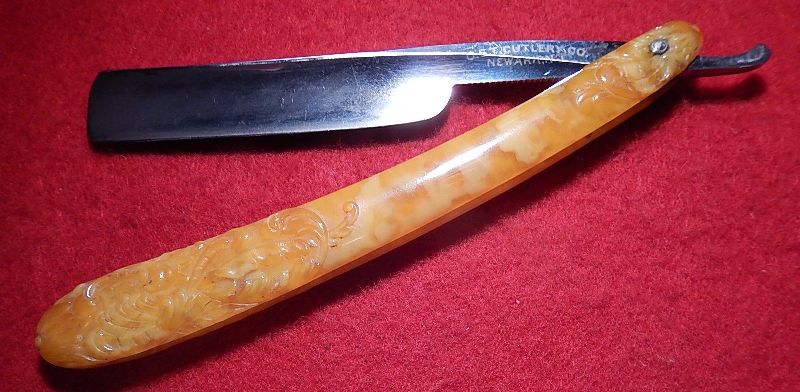 O. S. T. CUTLERY CO. NEWARK, N. J. on front shank. This company was in business from 1906-1914. The BRIGHT blade is 5/8+ wide. The handles are original with NO cracks or warping and the pins are tight. Price = $75
---


An ERN FARM SCENE pattern straight razor with the crown and sword on the handles and a lot of animals in detail. If you are looking for a pattern razor, this is one of the best and most beautiful. Has some slight warping on bottom but no chips, cracks or any other damage. It has the original handles and pins. Price = $300 + shipping/insurance. Email me for shipping quote.
---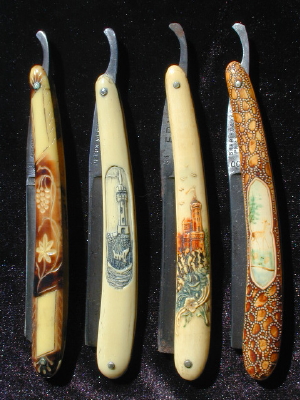 ---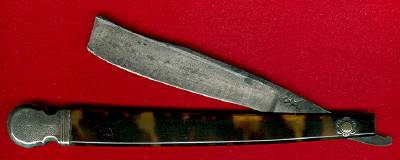 RARE TORTOISE SHELL STRAIGHT RAZOR W/ SILVER END CAPS AND BEAUTIFUL PINS, made in France about 1820 - $ 1500 + shipping and insurance
---

VERY RARE COLOR, BROWN SNAKE HANDLE STRAIGHT RAZOR- NO DAMAGE- some rust on blade, SNAKE ONE SIDE --$600 + shipping and insurance
---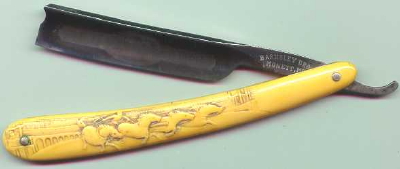 BEN HUR
RARE STRAIGHT RAZOR It has the full Ben Hur racing scene etched on the blade. $600 + shipping/ins
---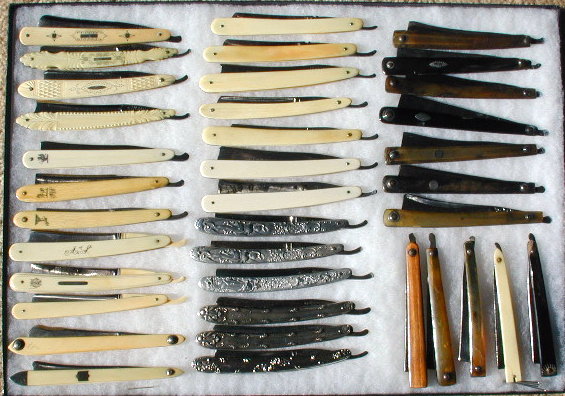 IVORY HANDLES ON THE LEFT AND TOP MIDDLE-- THEN 3 CAST ALUMINUM- THEN 3 STERLING SILVER ON THE BOTTOM
TOP RIGHT LATE 1700S - 1810 --- THEN THE 5 ON THE BOTTOM RIGHT ARE SHORT STRAIGHT RAZORS I BELIEVE THEY ARE USED FOR TRIMMING SINCE THEY ARE SO SHORT
---
EXTREMELY RARE STRAIGHT RAZOR This is the only one of these that I have seen.
Graff Zeppelin has a combination of features not found on any other straight razor. There is color, a printed name, a portrait, and an object (the Zeppelin) all with the correct brand name.